Products
Our Panels
We currently offer numerous panels, with 8 antimicrobial resistance assays available as panel add-ons and multiple other panels in development.
All panels can be offered in large tube format, 96-well or 384-well panels.
All products are for research use only and not for use in diagnostic procedures.
*Coming soon* URINARY TRACT INFECTION PANEL LITE
URINARY TRACT INFECTION PANEL WITH ABX RESISTANCE
URINARY TRACT INFECTION PANEL PLUS
*Coming soon* Dysuria
WOUND/DERM WITH ABX RESISTANCE
VAGINITIS
Sexually Transmitted Infection (STI) Panels
CT / NG (chlamydia / gonorrhea)
SEXUALLY TRANSMITTED INFECTION (STI)
FUNGAL INFECTION
CANDIDA
GI Pathogen
ANTIBIOTIC RESISTANCE
Panels in Development
Pharyngitis, Vesicular Rash, Fever & Rash, Stool Parasites, EBV, HIV Screen, Hep B/C, Dermatophytes, Eye Infection, Vector-borne, HPV, Meningitis, and Enteric Fever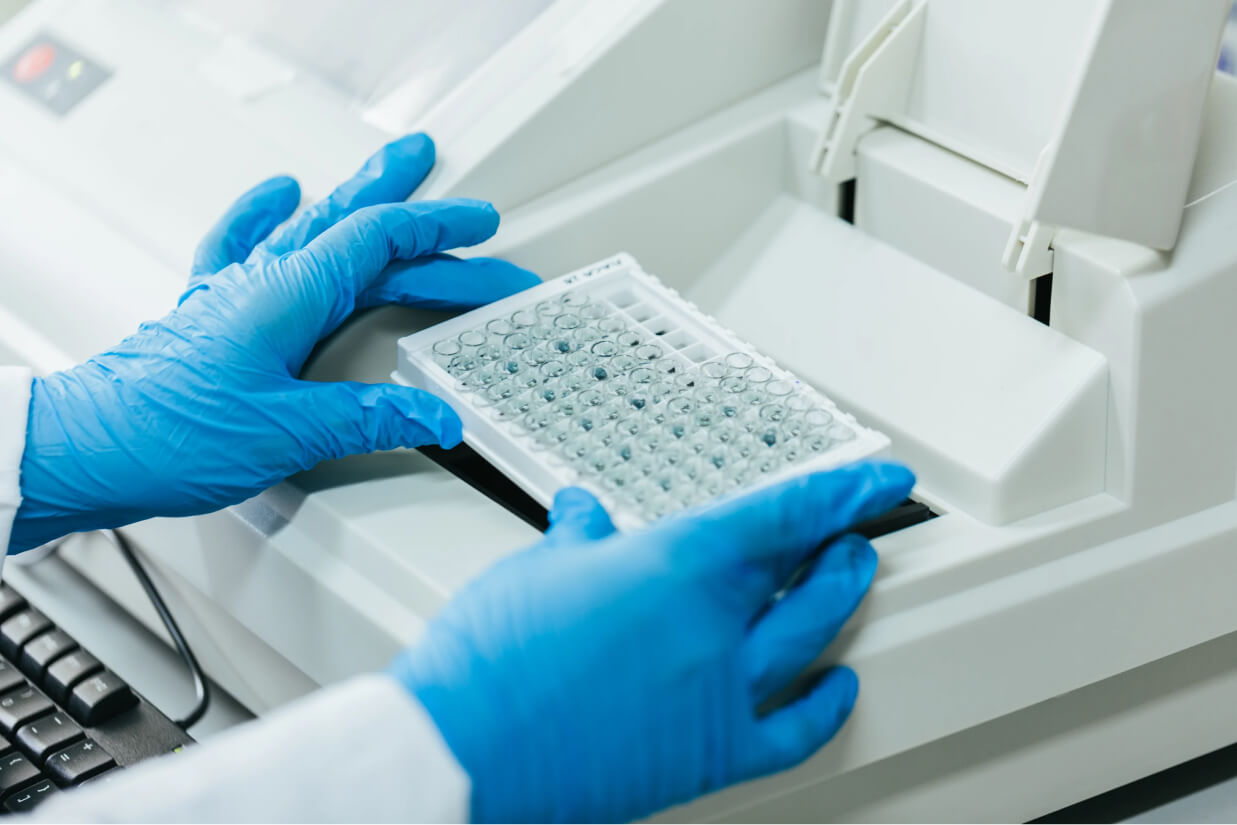 Full List of Assays
Antibiotic Resistance Targets
A – D

E – F

G – H

I – L

M – P

Q – T

U – Z
Acinetobacter baumannii
Adenovirus
Alternaria spp.
Aspergillus spp.
Astrovirus
Atopobium vaginae
Bacteroides fragilis
Bocavirus
Bordetella pertussis
BVAB-2
Campylobacter coli/jejuni/lari
Candida albicans
Candida dubliniensis
Candida glabrata
Candida krusei
Candida lusitaniae
Candida parapsilosis
Candida tropicalis
Ceftaroline
Ceftriaxone
Chlamydia trachomatis
Chlamydophila pneumoniae
Citrobacter braakii
Citrobacter freundii
Citrobacter koseri
Class A β-lactamase (blaKPC)
Class A β-lactamase (CTX-M-Group 1)
Class B metallo-β-lactamase (blaNDM)
Clostridium difficile
Coronavirus (229E, HKU1, NL63, OC43)
COVID-19 (Coronavirus)
Cryptococcus spp.
Curvularia spp.
Cytomegalovirus
EBV (mononucleosis)
Enterobacter cloacae
Enterococcus spp.
Enterovirus
Epidermophyton floccosum
Escherichia coli
Fluoroquinolones (QNR)
Fusarium spp
Gardnerella vaginalis
Haemophilus ducreyi
Haemophilus influenzae
HHV-1 (HSV-1)
HHV-2 (HSV-2)
HMPV A
HMPV B
Influenza A
Influenza B
Klebsiella aerogenes
Klebsiella oxytoca/michiganensis
Klebsiella pneumoniae
Lactobacillus crispatus
Lactobacillus gasseri
Lactobacillus iners
Lactobacillus jensenii
Legionella pneumophila
Malassezia spp.
Megasphaera Type 1
Megasphaera Type 2
Methicillin/Oxacillin (mecA)
Meyerozyma guilliermondii
Microsporum canis
Mobiluncus curtisii
Mobiluncus mulieris
Moraxella catarrhalis
Morganella morganii
Mycoplasma genitalium
Mycoplasma pneumoniae
Neisseria gonorrhoeae
Norovirus Grp 1
Norovirus Grp 2
Parainfluenza virus (type 1-4)
Prevotella bivia
Proteus mirabilis
Pseudomonas aeruginosa
Rhinovirus (types A & B)
Rifampin
Rotavirus
RSV A
RSV B
Salmonella species
Sapovirus
Sarocladium strictum
Scytalidium dimidiatum
Serratia marcescens
Shigella spp.
Staphylococcus agalactiae (Group B)
Staphylococcus aureus
Staphylococcus epidermidis
Staphylococcus saprophyticus
Streptococcus pneumoniae
Streptococcus pyogenes (Group A)
Sulfonamides (SUL)
Treponema pallidum
Trichomonas vaginalis
Trichophyton anthropophilic spp.
Trichophyton zoophilic spp.
Trichosporon spp.
Trimethoprim (DFR)
UK Variant B.1.1.7
Ureaplasma urealyticum
Vancomycin
Vancomycin (vanA)
Vancomycin (vanB)
Varicella Zoster (Shingles)
Yersinia enterocolitica