Podcast: How a Reference Lab Adapts and Grows to Meet Client Demand
Molecular Designs | September 27, 2023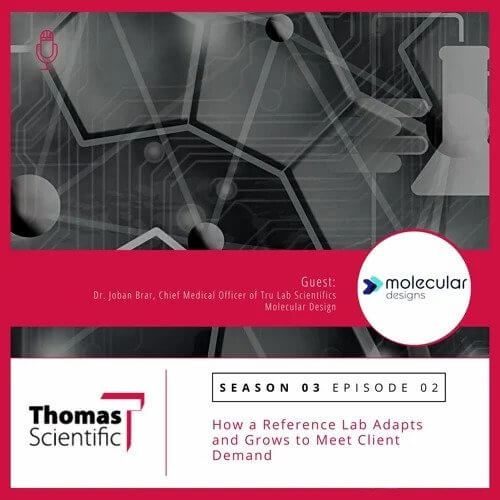 Tru Lab Scientific: Helping an Independent Lab Overcome the Challenges of a Post-Pandemic World
While many are familiar with the general upheavals in the healthcare industry as a result of the COVID-19 pandemic, one of the oft-forgotten stars of the drama are diagnostic laboratories. These labs played a critical part right from the very beginning, not only for their role in supporting early intervention by rapidly processing mountains of SARS-CoV-2 tests, but also for making sure there were no interruptions in all the other non-COVID diagnostics that continued to be in high demand.
One such diagnostic lab was Tru Lab Scientific. Based out of Irvine, California and founded in 2021 in the midst of the pandemic, their story reflects that of many other labs during the last few turbulent years. As one of our valued clients, we recently sat down with them in an interview for Thomas Scientific and got to learn about their challenges, successes, and learnings along the way. We were joined by several of the Tru Lab team including Dr. Joban Brar (Chief Medical Officer), Jason Louie, Jessica Terranati (Molecular Scientists), and Matt Booth (Chief Commercial Officer).
Tru Lab Scientific Background
One critical piece of context is understanding the type of people Tru Lab is made up of. Chief Medical Officer Dr. Joban Brar heads the clinical operations of the company, but what sets Tru Lab apart is her business partners - a group of fathers who, when faced with the pandemic, desperately wanted to lend their part in supporting their school-aged children.
"They saw their children home from school, so they reached out to the principals and asked what they could do to help get the children back. Was it testing? Was it… providing bigger classrooms and social distancing? The principles [they spoke with] determined that testing was exactly what they needed."
- Dr. Joban Brar, CMO, Tru Lab Scientific
So that's just what they did - the first service they offered as Tru Lab Scientific was providing SARS-CoV-2 testing for local school districts in Los Angeles County, Riverside County, Orange County, and San Diego County. They prioritized same-day result turnaround so that students could get black to classes with minimal interruptions. In light of this, they knew that PCR was going to be the way they would make this happen.
However, after seeing the speed and accuracy that was possible with PCR across all pathogenic testing, they set out to expand their offerings with broader molecular diagnostics to their communities. Tru Lab Scientific partnered to attain CLIA validation and have since established themselves as a regional clinical research site with the same founding principle of improving healthcare for patients in their own neighborhoods.
Partnering with Streamline Scientific to Obtain CLIA Validation
As any lab who's gone through CLIA validation can attest to, it's a challenging process. Stringent regulatory requirements, process errors, diverse sample types, genetic variability, process errors, reproducibility, and contamination challenges can make it difficult to obtain validation.
To help with this, Tru Lab turned turned to Molecular Designs. Of course, Molecular Designs manufacture PCR assays and panels to help facilities like Tru Lab improve efficiency, reduce costs, and speed up turnaround times. But we don't just stop at offering a product. Under our consultancy arm - Streamline Scientific - we work closely with our clients and consult on what it takes to obtain CLIA certification, achieve operational improvements, and obtain success as a world-class molecular testing facility.
One of Tru Lab's scientific team, Jason Louie, noted, "Other companies that offer validation teams - they're not as hands on. They'll start your validation and then they'll be more focused on their personal time versus completing the validation, often calling short days. They provide some reference materials, but after the runs are finished, the reference materials aren't correlating with the original specimen that they were collected from. So we're getting discordant results, and that's just delaying our validation."
"My opinion of your company is in the name itself - Streamline. This is what we experienced throughout the process when we partnered with you: efficient production, a straightforward process, and a knowledgeable validation team that was sent over here to guide us."
- Dr. Joban Brar, CMO, Tru Lab Scientific
Jason then went on to mention how Streamline operates differently from the competition, "Their team not only provided all the consumables and materials we would need to start the validation - they would make sure we could finish it, even if there were errors. Chuck, who was our Field Application Scientist (FAS) at the time, answered any questions that we did have if we could come up with anything at all - he was very in-depth, so there wasn't room for open interpretation or errors."
According to one of Tru Lab's other scientists, Jessica Terranati, the field partnership was particularly important for them, "Chuck took the time to help us understand why validations with other teams were not successful. He wasn't just there for this validation - he was offering his input so that we understood what we were doing wrong or what the issue was with our method. This really helped my scientists feel confident in their practice - your self-esteem does kind of go down when you see the experiment is not working out. And so, for them to be able to reach that confidence again, I'm truly grateful."
Partnering with Molecular Designs for World-Class PCR Products
For Tru Lab, they realized benefits beyond their Streamline Partnership - it was Molecular Design's products that also made a big difference for their business. Tru Lab was able to use our Simplicity Panels, which we designed to further improve on the efficiencies associated with classic PCR testing. These specialty panels are pre-plated with master mix, primers, and probes and come as breakaway panels. These proprietary differences are allowing labs to reduce waste and the turnaround time associated with assay prep.
These product changes made all the difference for Tru Lab. Dr. Brar notes, "​​We are a small, independent lab, so we have to compete with the big guys - the Quests and the Labcorps. During the pandemic, we got the overflow of the big labs so we were able to survive and thrive. Now that the pandemic is gone, they took all the testing back, so as an independent lab, we are going through the struggle of being able to afford these assays just to continue testing. Having something pre-plated, ready to go, affordable, and cost effective and with the same run time and results, it was so key."
One of the unfortunate, but all-too-common experiences in managing a lab is a poor relationship with a supplier. Matt Booth, one of the original partners and current CCO of Tru Lab comments that "delays in communication, issues with shipping, issues with packaging, or receiving the wrong product can result in missing a day's operations which often sets off a negative domino effect… my experience with Molecular Designs has been great."
Having maintained our own reference lab in the years since the COVID-19 pandemic began, we not only understand the struggles of independent labs, but are intimately familiar with what it takes to overcome them. At Molecular Designs and Streamline Scientific, we're fiercely committed to making sure every lab we work with rises to the challenges offered in the turbulent environment of modern healthcare. If you're curious on how we might be able to help your lab, consider visiting our website for more information.